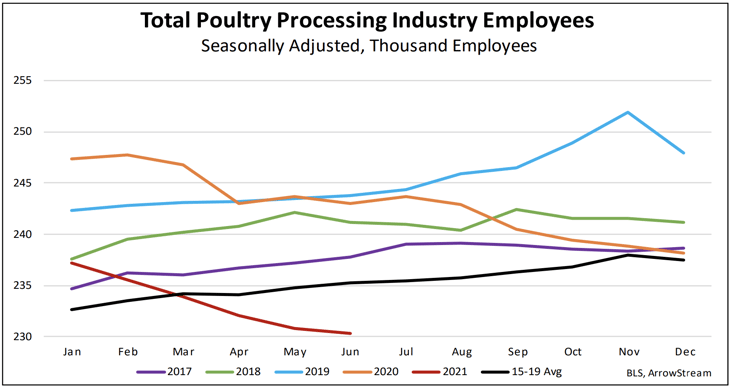 The chicken markets have been influenced by hatchery issues and a lack of labor, and it doesn't appear to be improving any time soon.
It should be no surprise to our readers that labor remains an issue, and if you're involved on the poultry side of the business, the chart should be even less of a surprise. All employees in the poultry processing industry have fallen to their smallest levels since 2016.
On the other hand, all employees in the animal slaughtering industry excluding poultry processing are at their largest since 2003!
But, sticking with the poultry processing industry, average weekly hours worked have been their highest since at least 2006 in every month since March, year-over-year hourly earnings increases have been growing at record levels throughout 2021, and average overtime hours have been at or near record levels since May 2020.
While we've noted that there is certainly a hatchability issue hampering production (and perhaps the two are related?), don't expect chicken production to pick up until processing labor finds some footing.

About Dr. Isaac Olvera
Dr. Isaac Olvera is ArrowStream's lead food and agricultural economist focusing on livestock, meat, and poultry, grains, and oilseeds as well as emerging trends in consumer buying behaviors both at retail as well as foodservice. Dr. Olvera holds a PhD from Texas A&M University in Animal Science, Production Economics where his research concentration was in the economic effects of sustainable practices in beef cattle production.
About ArrowStream
ArrowStream is the leading end-to-end supply chain management platform for the foodservice industry, helping clients capitalize on data to improve their business. ArrowStream serves thousands of chain restaurant operators, distributors and suppliers with a single integrated network of applications and industry data, providing unmatched levels of transparency, control and actionable insight to protect their clients' brands, mitigate risks and optimize profitability.