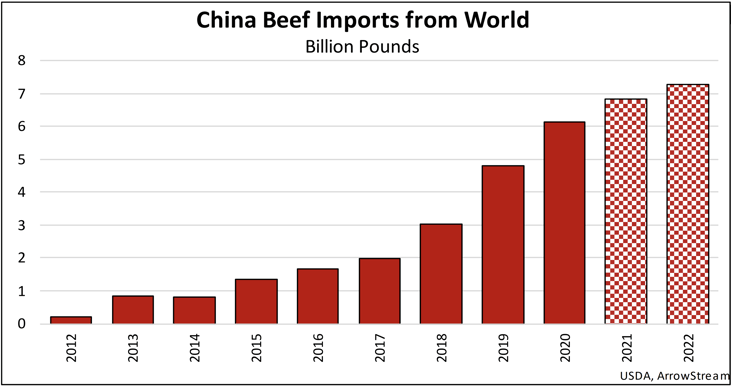 Late last week, Brazil announced the discovery of two cases of atypical bovine spongiform encephalopathy (BSE), or, more colloquially known as Mad Cow disease.
Atypical means that it occurred spontaneously and was not spread from the consumption of contaminated feed. Generally atypical BSE cases lead to short-term supply disruptions rather than long-term bans, but it's worth noting that these short-term disruptions may still be impactful when we're talking about Brazil, the world's largest beef exporter… and its top trade partner (and the world's largest beef importer projected to account for nearly 32% of global beef imports in 2022), China.
Brazil self-suspended exports to China, as is protocol, while the Agricultural Ministry sorts through the case, and even if the suspension only lasts a week to two weeks, the United States is very likely to see spillover sales.
We've been looking for continued downside across wholesale beef prices, but this may temper some of the expected downside into late summer.

About Dr. Isaac Olvera
Dr. Isaac Olvera is ArrowStream's lead food and agricultural economist focusing on livestock, meat, and poultry, grains, and oilseeds as well as emerging trends in consumer buying behaviors both at retail as well as foodservice. Dr. Olvera holds a PhD from Texas A&M University in Animal Science, Production Economics where his research concentration was in the economic effects of sustainable practices in beef cattle production.
About ArrowStream
ArrowStream is the leading end-to-end supply chain management platform for the foodservice industry, helping clients capitalize on data to improve their business. ArrowStream serves thousands of chain restaurant operators, distributors and suppliers with a single integrated network of applications and industry data, providing unmatched levels of transparency, control and actionable insight to protect their clients' brands, mitigate risks and optimize profitability.