Why convenient stores are changing and how to not get left behind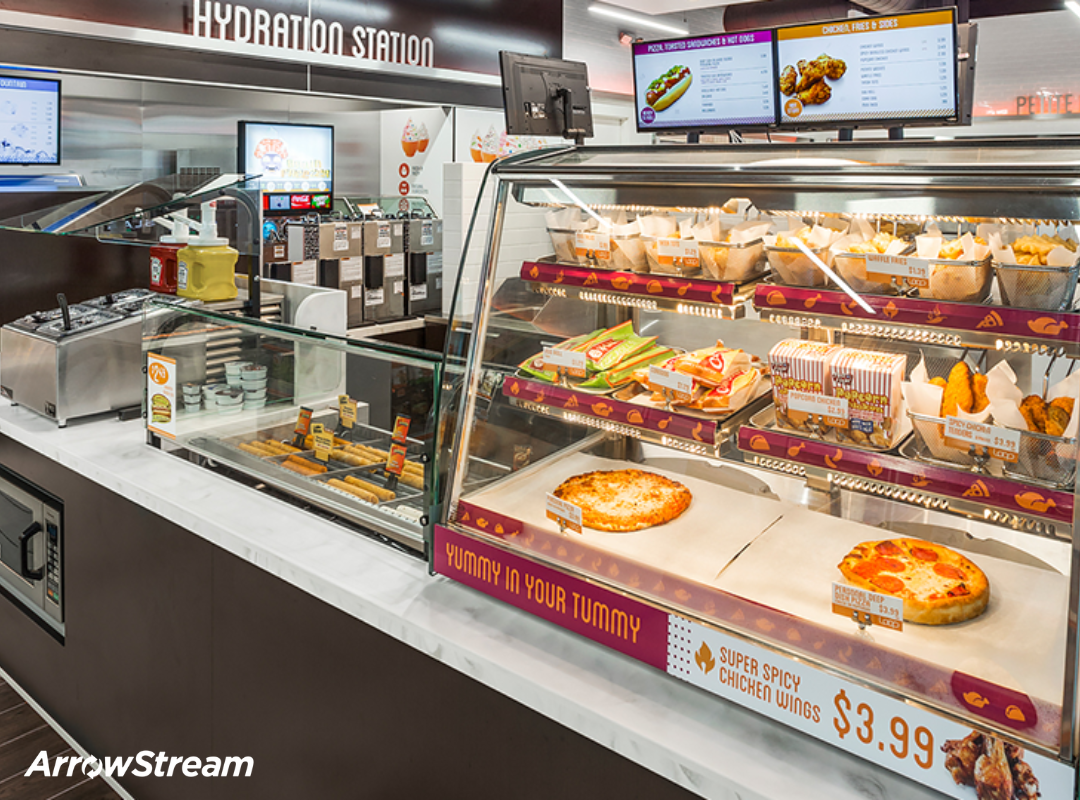 In the words of Jon Siron, Foodservice Director at Eagle Stop, "The days of smokes and Cokes are coming to an end," with more than 50 convenience store locations across Missouri, Eagle Stop is recognizing the shifts in consumer behavior that are driving the expansion of foodservice at convenience stores, "C-stores are finally understanding that they aren't just gas stations that sell food; they're restaurants that sell gas."
Convenience stores are entering a shifting competitive landscape featuring competition from pharmacies, grocery stores, dollar stores, and quick-service restaurants. Legal changes such as the Food and Drug Administration's pursuit of a ban on flavored tobacco products threatens a major share of convenience store revenue – with nicotine products comprising over a third of in-store convenience store sales. Furthermore, the growing prevalence of electric vehicles is further diminishing the need for frequent stops at gas stations and convenience stores. While presently accounting for only 2.6% of global vehicle purchases, a report from Bloomberg New Energy Finance predicts that by 2040, 58% of global passenger vehicle sales will come from electric vehicles. In response to the rising popularity of electric vehicles, convenience stores are increasingly adding electric vehicle charging stations; the extended duration required to charge electric vehicles creates opportunities for foodservice sales as customers wait for their vehicles to charge.
Convenience store retailers are continuing to experience significant revenue increases in the foodservice category. Foodservice now accounts for 22.6% of sales and 36.4% of profits at US convenience stores, excluding fuel according to preliminary data from convenience store association NACS. The convenience store industry experienced sales growth of nearly 9% in 2018, with in-store sales reaching a record $242 billion. A study conducted by Convenience Store News reported that 58% of respondents purchased prepared food at a convenience store within the last month, an average of three times. According to a survey by Bluedot, consumers are putting convenience stores on par with fast food restaurants, with nearly six out of ten of people surveyed claiming to consider purchasing meals from convenience stores when stopping for fast food.
Retailers are capitalizing on this lucrative opportunity and convenience store foodservice is transforming to rival quick-service restaurants and grocery stores by offering higher-quality menu items ranging from salads, avocado toast, acai bowls, blended smoothies, sandwiches on fresh-baked bread, craft coffee, and made-to-order lattes and macchiatos. This growing commitment to convenience store foodservice can be illustrated with Pennsylvania-based convenience store Wawa's implementation of a catering service — offering boxed lunches of soups, salads, and sandwiches for $6.49 with a minimum of 10 orders.
Increases in foodservice sales has also led many convenience store retailers to increase their store footprints with open kitchens, ordering kiosks, and expanded dining spaces. The average convenience store is currently 3,230 square feet, but new units are averaging 4,991 square feet in rural areas and 4,603 square feet in urban areas to account for the new features.
7 Ways to Drive Foodservice Sales in Convenience Stores
Here we've listed seven effective ways to drive foodservice retail at your convenience store:
1. Incorporate Healthy Menu Items
63% of surveyed consumers claimed they want convenience stores to offer healthier menu items and 50% of surveyed consumers claimed they would visit convenience stores more often if they offered healthy food and beverage options. Convenience stores are generally not associated with fine dining or healthy menu options, but convenience stores have access to food options that quick-service restaurants may lack the time and availability to reasonably stock and serve to their customers; and you should use this to your advantage.
2. Highlight Fresh or Local Produce
Eliminating the notion that convenience store products are unhealthy or low-quality by drawing attention to your store's fresh ingredients is a great way to alter your brand image among consumers. Sparty's convenience store at Michigan State University in East Lansing, MI, has a section dedicated to local produce which its corporate chefs allege to be extremely popular among customers. Maryland-based convenience store chain High's recently renovated its menu and partnered with a local specialty restaurant supplier to ensure access to quality ingredients. Studies show that the peak time for prepared food purchases at convenience stores is lunch. Make sure to keep food quality, price/value, and taste in mind when incorporating fresh foods.
3. Install Induction Units
Pilot Flying J, the Tennessee-based convenience store chain, recently replaced its steam tables with induction units which do not spread heat throughout the kitchen, keeping the food hot without heating the establishment or its occupants. Creating an environment conducive to the comfort of your customers can have an impressive effect on their satisfaction with their visit and purchase.
4. Create a Secret Menu
Customers often view convenience store brands as interchangeable, offering a secret menu can be a great way of ensuring frequent returns. Convenience store chain Sheetz hid a secret menu in the kiosk ordering system at its State College, PA location and convenience store chain Wawa has a secret menu which changes throughout the year.
5. Consider offering delivery
The stay-at-home orders of the pandemic have precipitated a dramatic increase in delivery orders and convenience stores are poised to capitalize on this opportunity or lose revenue to businesses that do. People are traveling less and ordering deliveries, not just from restaurants, but from grocery and department stores as well. Making your convenience store's products available to customers through third-party delivery services is an excellent way to respond to the recent decrease in travel.
6. Partner With a Local Charity or Non-Profit
Teaming up with a good cause is a great way to stand out amongst the competition and earn a place in your customers' hearts. J&H Family Stores in Michigan began a Community Kickback program where it raises money for a local charity by matching the proceeds from the sale of a specific item. Arizona-based convenience store chain Circle K financially sponsors and supports a lengthy list of charity organizations including the Red Cross, Habitat for Humanity, and the Make a Wish Foundation. The 2022 Consumer Fuels Survey conducted by the National Association of Convenience Stores found that 47% of customers believe it is important that a convenience store supports or donates to charitable causes.
7. Maintain the Core Value Proposition of Convenience
The primary reason that customers will choose a convenience store over a grocery store or quick-service restaurant is convenience, and this ability to alleviate the friction of the customer's journey should not be sacrificed in the effort to offer higher-quality items. Consider technological and operational changes such as electronic ordering kiosks or enhanced store design to further the ease with which your customers locate and purchase products.
Convenience stores are undergoing a foodservice revolution and are poised to compete with restaurants and grocery stores for control of the foodservice market. However, you decide to implement changes, ensure that your convenience store doesn't get left behind.