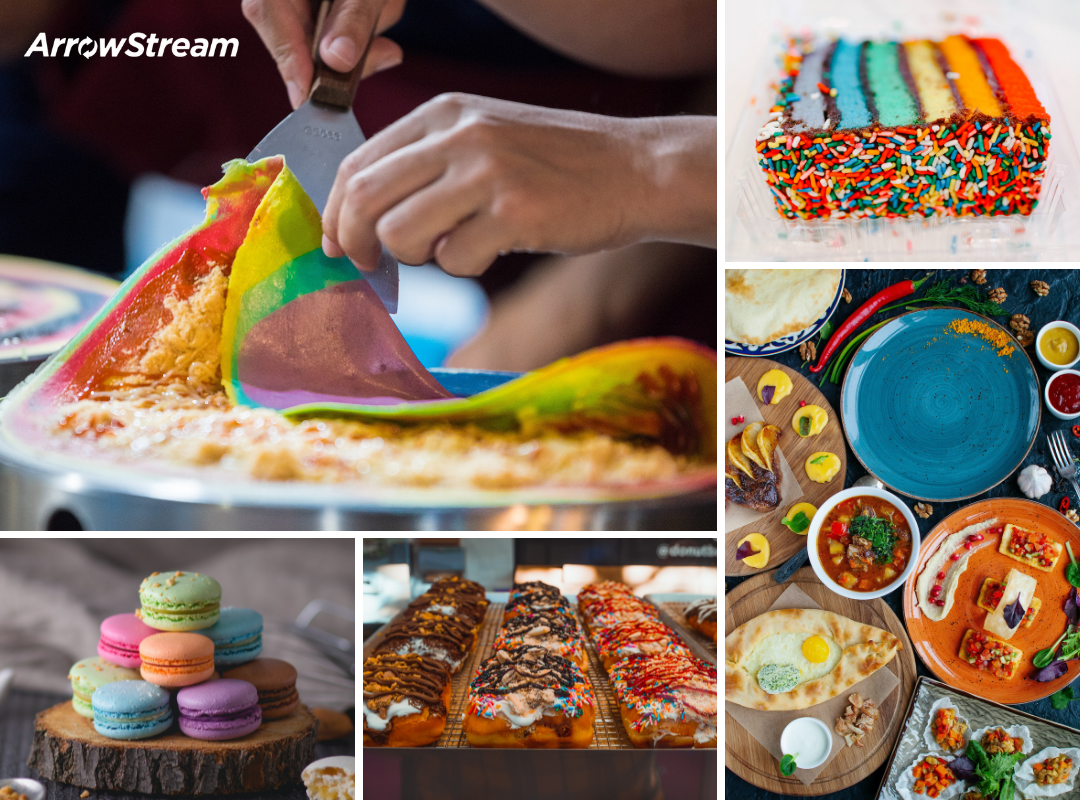 A Limited Time Offer, or LTO, is an excellent way to boost business. Celebrating special occasions with temporary menu items, discounts, and promotions is a tried-and-true way to increase revenue and raise brand awareness. LTOs are popular for a reason: they work. Research conducted by Datassential in 2021 showed that 50% of surveyed customers claimed to have ordered an LTO in the past two weeks from the date of the survey. 75% of those customers said they will tell their friends about it, and 65% of them said they would return to the restaurant again to order something else. According to restaurant industry consultant Ryan Gromfin, "LTOs are powerful because of the fear of missing out." In other words, the limited duration of the promotion or menu item compels customers to visit a restaurant sooner rather than later when it might no longer be available.
LGBT Pride Month is an annual celebration of lesbian, gay, bisexual, and transgender people that occurs in the United States during the month of June in commemoration of the Stonewall Riots – a series of spontaneous demonstrations in response to a police raid of the Stonewall Inn in New York City on June 28th, 1969. The Stonewall Riots are viewed as a major catalyst of the Gay Rights Movement and a year after the protests, the first Gay Pride Marches – or Pride parades – took place in Chicago, Los Angeles, New York, and San Francisco.
The rainbow striped flag has become the most prominent symbol of the LGBT community and many restaurants Pride Month LTOs feature entrees, desserts, and cocktails incorporating the rainbow color scheme. The Melt in San Francisco is offering a grilled cheese sandwich with rainbow-colored cheese for Pride Month called the Magic Melt, Shake Shack is offering a celebratory Pride Shake – a cake batter shake topped with rainbow sprinkles, and Hotel Figueroa in Los Angeles is serving a rainbow-layered Bandera cocktail for the month of June. Alternatively, Skittles, the ordinarily rainbow-colored candy manufacturer, is partnering with GLAAD – the world's leading LGBT media advocacy group – and releasing limited-edition Skittles Pride Packs which feature gray packaging and contain gray candies.
The easiest way to add a rainbow-colored menu item to your restaurant is with a dessert - which are often already made from artificially colored ingredients. Desserts are the most popular LTOs across restaurant sectors – a study from Datassential illustrated that desserts accounted for 26.5% of quick service restaurant LTOs and 37% of midscale restaurant LTOs last spring.
You should also consider crafting a colorful and exciting specialty entree utilizing the fruits and vegetables that are in season during the summer. Radishes, beats, arugula, carrots, bell peppers, zucchini, corn, tomatoes, and rhubarb form a vivid palette of summer vegetables. Apricots, plums, cherries, strawberries, blackberries, nectarines, peaches, passion fruit, lemons, melons, and limes are also in season during the summer and can be effortlessly arranged into rainbow-colored dishes for Pride Month.
Your restaurant's LTOs don't have to be entirely new. Rather, they can be modifications to existing menu items. Consider how Starbucks consistently performs well during the holiday season with its limited time offering of pumpkin spice lattes. Similarly, a unique coloration or flavoring to one of your restaurant's existing menu items can be a great way to promote Pride Month, draw customers, and boost revenue.