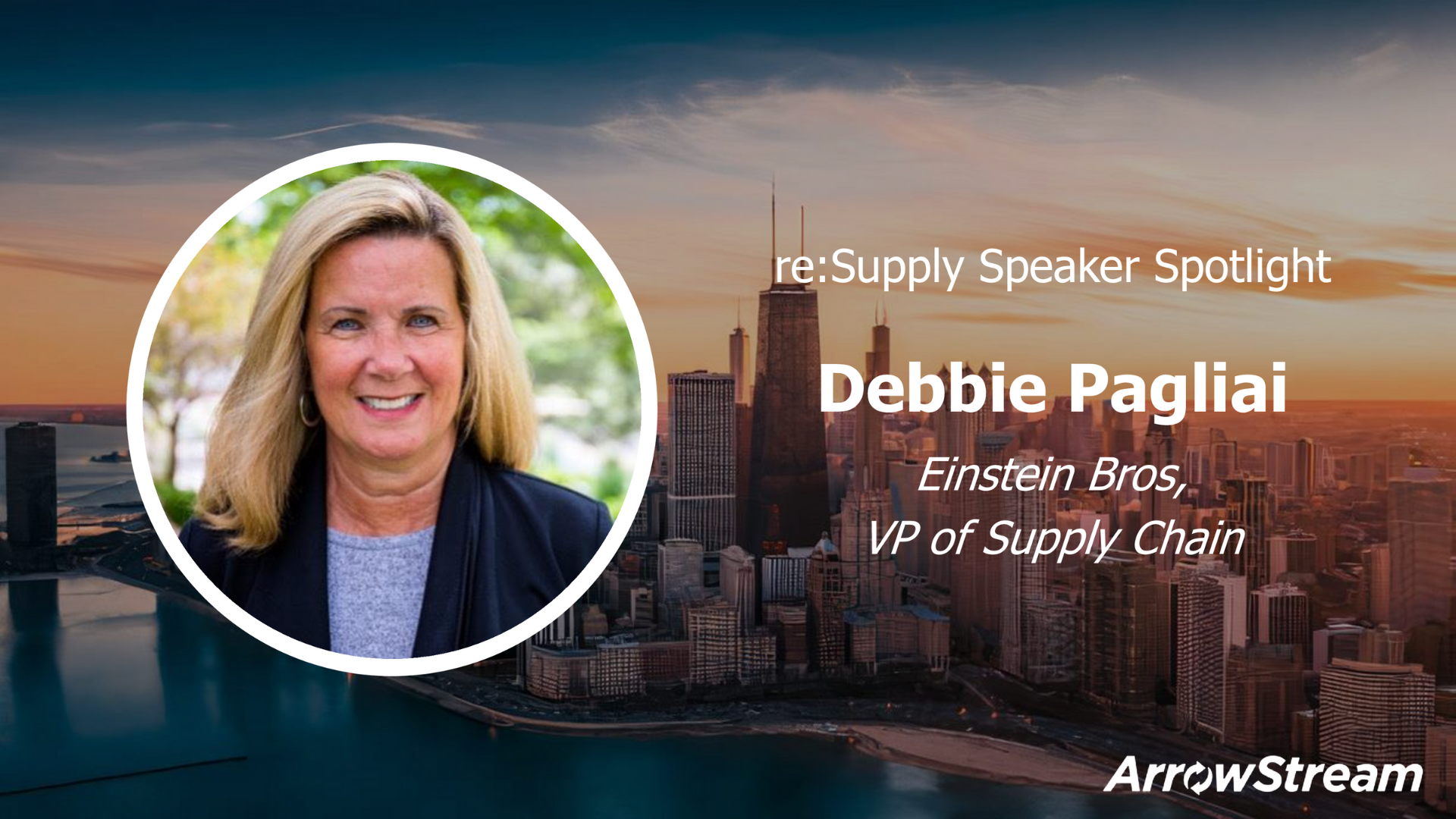 To give you a sneak peak of what to expect at re:Supply Innovation Summit on July 28th, 2022, ArrowStream is pleased to present an interview with Debbie Pagliai, VP of Supply Chain, at Einstein Noah Restaurant Group Inc. Debbie Pagliai, VP of Supply Chain, joined Bagel Brands in 2015 where she is the executive manager for sourcing, distribution and quality assurance for all bagel operations. Her team orchestrates all sourcing, procurement, and distribution needs for their bakeries. Ms. Pagliai brings over thirty-nine years of foodservice, marketing, sales, and distribution management expertise.
1. Tell us something about yourself. How did you get into the industry? How long have you been in foodservice?
I've been in the industry for thirty-nine years. In college, I was hired by Hormel Foods and stayed with them twenty years in sales and sales management. I then went into the distribution side of the business and worked for US Foods for about seven and a half years. After that, I came to the customer side of the business and have been on the supply chain side ever since.
To go from sales to distribution marketing and then into supply chain has given me experience on all three sides of the table. That experience has allowed me to have a pretty good idea of what distributors and suppliers go through, because I've sat on that side of the table. I will also say that things have changed tremendously since I started.

2. What has changed the most about the foodservice industry since you started?
The technology, it's much more streamlined than it was. A lot of the rules of engagement have changed from starting back in the 80s to what it's like now, and I think for the better in all honestly. It's allowed supply chains to have more control from a contractual and pricing standpoint. The unfortunate part is that it's harder for salespeople. They don't have that opportunity to do what they do best, which is sell. You used to get in front of the decision makers a lot more, and I think now it's harder.

3. What's your favorite thing about working in foodservice?
My favorite thing is the people. The majority of us that get into food service stay in food service. People switch jobs, they go with different companies, but for the most part it's still the same people.

4. What's the biggest obstacle you've faced in your career so far?
Probably the last two and a half years with Covid. Before that, we were all humming along. The last two and a half years have aged me significantly. There's been a lot of stress just making sure that we have product at all our 1,100 stores. I know more people that retired in the last two and a half years due to the challenges. A lot of them were salespeople and they basically just couldn't sell anymore. You just don't have the opportunities that you used to. I do think there's light at the end of the tunnel. I do think things are getting better and that's a positive for our industry.

5. Where do you believe things are headed with the future of the supply chain in 2022 and beyond?
Covid has allowed us to simplify. If you look at a lot of restaurant chains, even just mom and pop restaurants, menus have been paired down substantially, and yet you still see people eating out in droves. Just because they eliminated some of the dishes that you like doesn't mean you can't find something else on the menu.
Regarding the future of supply chain, I would really hate to see us go back to what we were doing prior to the pandemic with the convoluted menus and the absence of streamlined business. At Bagel Brands we are focusing a lot more on our speed of delivery and how friendly our staff is because we feel that if people are satisfied with their order and we are serving good food then they're going to come back. Service is a big part of the success of a restaurant.

6. How do you think technology impacts the supply chain and your operations?
I've been in supply chain for eleven years and I worked for two different restaurant chains during that time. Both had ArrowStream, so from where I sit, I don't see how restaurant chains can do without ArrowStream. To have all our contracts loaded in one place, pricing, price audits, inventory, run sales data, breaking it down to the individual stores, running our sales from a supplier standpoint, is huge! Technology continues to play a huge part in our success in supply chain, specifically because we don't have to rely on the distributors and the suppliers to give us that information. It's information that we have at our fingertips, which helps us further develop our relationships with our distributors and suppliers. So, when we are having business meetings, we can bring up issues or praise distributors and suppliers on things that they're doing right. Technology will continue to evolve in the foodservice industry, and it will play an important role in our success.
To hear from Debbie in person, join the waitlist to re:Supply here.