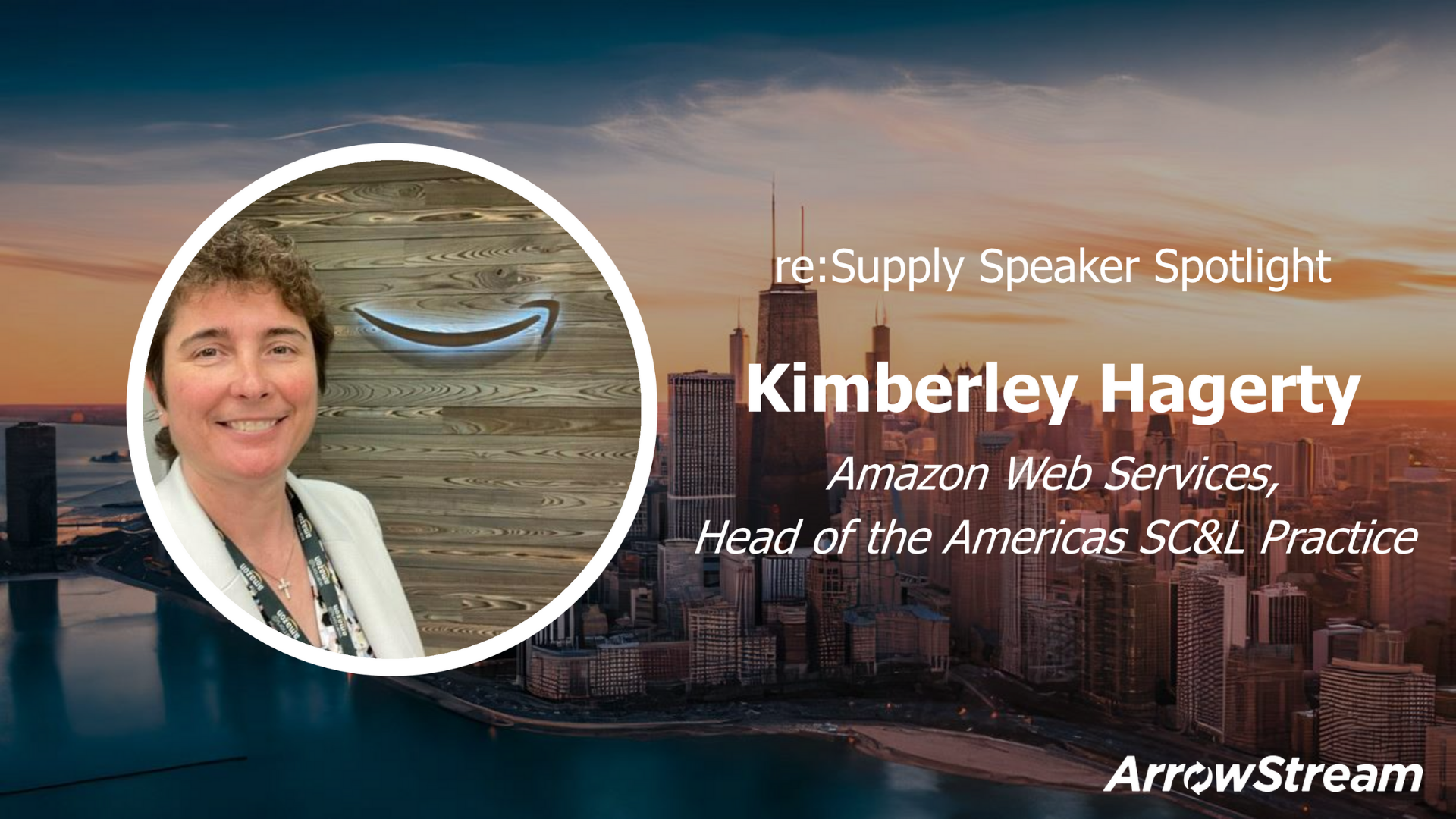 In just over a week, ArrowStream will be hosting re:Supply Innovation Summit, the premier foodservice industry event. In anticipation of the event, ArrowStream is pleased to present an interview with Kimberley Hagerty, Head of the Americas: Supply Chain, Transportation, & Logistics at Amazon Web Services (AWS) and a re:Supply Innovation Summit speaker.
A tenured global operations executive with an extensive background working in operations, logistics and transformative digital technologies, Kimberley began her career as a Strategic Logistician for the United States Air Force. In her current role with AWS, Kimberley leads a team of digital innovators and industry thought leaders for all things manufacturing, supply chain, transportation, and logistics – helping customers across all industries develop the most innovative manufacturing and supply chain strategies.
1. Tell us about yourself. How did you get into the industry? How long have you been in supply chain?
I've been in the industry for over thirty-three years. I started when I joined the military. I was in the military for twenty-four years, working across all functional disciplines of logistics. I did crisis response planning and contingency response planning. Logistics wins wars, so if we do a bad job planning and sustaining, then people die. With my military background, I have a very different perspective on supply chain than the commercial industry typically does because it's much more critical to have end to end visibility, planning, and logistics. Imagine how complex building the response plan to 9/11 was, I was part of that.
2. What has changed the most about supply chain since you started?
A consistent theme I've seen for the last thirty years is that everybody is struggling to have access to, or know what the right tools to do the job are. Being in the military, I had the extreme pleasure to work with some of the most advanced tools and technologies in the industry. Some of the tools and technologies I worked with in the military aren't even available commercially because of the sensitive nature of maintaining our competitive advantage from a national defense standpoint. Whether you're in procurement, logistics, route optimization, or production control, whatever your functional discipline in supply chain is – what's been historically missing is the right tools for the job. What has changed is that we now have a plethora of tools available across the end-to-end supply chain. We can now enable all those different functional disciplines with the right tools to do the job with the AWS cloud.
3. What's your favorite thing about working in supply chain? How do you think working in supply chain differs from other industries?
My favorite thing about supply chain is that I get to touch every element of a business. Supply chain is the only functional discipline that enables and touches every element of the digital thread. Whether it's operations, manufacturing, warehouse distribution, sales and marketing, production design and development, planning and SIOP – every element is affected by supply chain, and I get to impact and influence every part of a business.
4. What's the biggest obstacle you've faced in your career so far?
From an obstacle standpoint, I would say the elephant in the room is when you get a group of supply chain leaders in a room together, very few are female. Historically, throughout my career, I've been the only female and that makes it that much harder to be an influencer and move the needle. Supply chain and manufacturing, is a highly male dominated environment. It's refreshing today to see the landscape changing and now those executive leaders are coming to me and asking me for help, guidance, and assistance in developing and deploying supply chain strategies on AWS. I get to act as a trusted advisor because I got to experience their pain and I got to solve the problems that they're now charged to solve and I get to do it with the power of AWS behind me. I think the industry has come a long way over the last 30+ years and I can now help others to navigate through the labyrinth of supply chain, to be a trusted advisor helping others along the way.
5. Where do you believe things are headed with the future of the supply chain in 2022 and beyond?
The future of supply chain is completely driven by the customer experience and if we've learned anything from Amazon.com over the last 20 years, it's that they've completely revolutionized the industry by focusing on the customer experience. Each industry has their own unique customer demands and requirements, but everybody is searching for that Amazon customer experience. How you work backwards from that customer experience to enable your supply chain is really going to be the differentiator for what your supply chain of tomorrow looks like.
6. How do you think technology impacts the supply chain and your operations?
Where you leverage technology is all about insight to action and historically, across the supply chain it's typically been unknown. The information is typically lagging, and you're forced to make decisions after the fact. You're not able to make proactive decisions or decisions to mitigate risk. Technology not only gives you the ability to make predictive decisions, but it also enables you to be prescriptive in how and when you make those decisions. When you get good at that, you can automate those decisions and have the analytics create the right business logic. In order to know what the right decision is, or the impact of multiple different decisions, you need to have a basis of truth in order to act on. Technology lets you know the impact of your decision, helping you to protect the customer and the business from disruptions.
7. Who do you admire (company or person) and why?
The reason that I'm here at AWS is because that's the company that, in my career, is the ultimate company to work for. The complete autonomy to work hard, have fun, and make history, is really part of their culture and the speed of innovation is no joke here. The things I'm able to create and the impacts I'm able to make are going to last for years to come; and there's no better place to do that then here at AWS.
To learn from Kimberley and her expertise in supply chain, join the waitlist to re:Supply here.