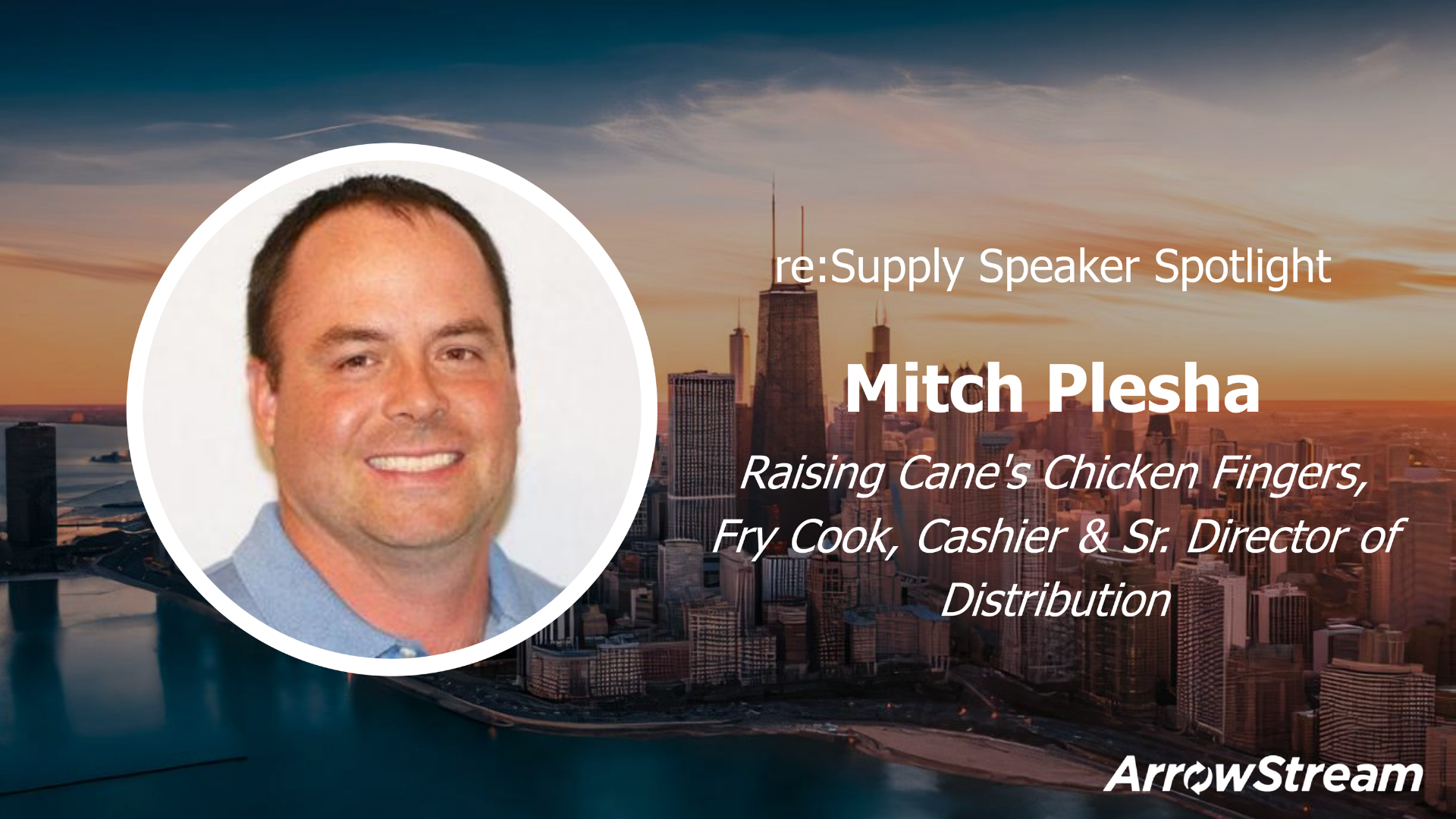 In just over a week, on July 28th, 2022, ArrowStream is hosting re:Supply Innovation Summit, the foodservice industry event of the year. It will bring together operators, suppliers, and distributors for a day of networking and collaboration to address today's challenges. In anticipation of the event, ArrowStream is pleased to present an interview with Mitch Plesha, Vice President of Distribution at Raising Cane's and a speaker on the customer panel. Mitch's experiences across many industries will bring a unique perspective to restaurant distribution.
1. Tell us something about yourself. How did you get into the industry? How long have you been in foodservice?
I spent the better part of my career working as a consultant with third-party logistics and some of those companies supported foodservice. In 2017, after 18 years in supply chain operations, I transitioned into foodservice and started working at Raising Cane's. In my current role, I manage teams responsible for product supply from manufacturer to restaurant, sourcing and distribution of branded materials, and FF & E purchasing and supply.
2. What has changed the most about the foodservice industry since you started?
The availability and reliability of products coming from suppliers has changed significantly, mostly because of Covid. Challenges in the supply chain have changed over the last couple years – manufacturers, suppliers, and operators can't carry enough inventory. Labor markets and turnover have also increased. You must be able to make things simple so people can step into these new roles quickly due to the limited workforce.
3. What's your favorite thing about working in foodservice? How do you think working in foodservice differs from other industries?
My favorite thing about foodservice is having something different to do each day. I enjoy putting processes into place. No two days are ever the same. There's also more moving pieces and parts in foodservice with so many different suppliers. Very rarely do you see any business across the supply chain with only a single customer. There are so many people you're trying to service and trying to get everyone to work together is a challenge.
4. What's the biggest obstacle you've faced in your career so far?
Finding people that consider all sides of the situation has been a huge obstacle. People tend to see things from a very one-sided perspective. In supply chain, you have to have partnerships. Getting people to understand that and work with each other has been an issue. Fortunately, Raising Canes has been such a good fit for me because it has the same mindset.
5. Where do you believe things are headed with the future of the supply chain in 2022 and beyond?
We'll see more and more reliance on technology. Technology is making peoples' jobs easier, and people are getting better at using technology to solve problems.
6. How do you think technology impacts the supply chain and your operations?Technology helps the customer experience become smoother, faster, and easier - for instance, using iPads for taking orders at drive-thrus. Technology makes it easier to bring new people on faster through streamlined training. It can also help with tracking inventory by having built-in menus that you can cross-reference with inventory.
We work in ArrowStream's system every day. It helps us manage our supply chain more efficiently. It's how we validate what we've invoiced correctly. It's how we determine remaining delivery per restaurant. It allows us to examine daily order patterns and look for new suppliers. It helps us plan ahead so we aren't out of stock.
7. Who do you admire (company or person) and why?
Larger companies that have been around for a long time and historically provide customers with a consistent experience. Chick-Fil-A and McDonald's set a high bar.
Join the waitlist to re:Supply here.