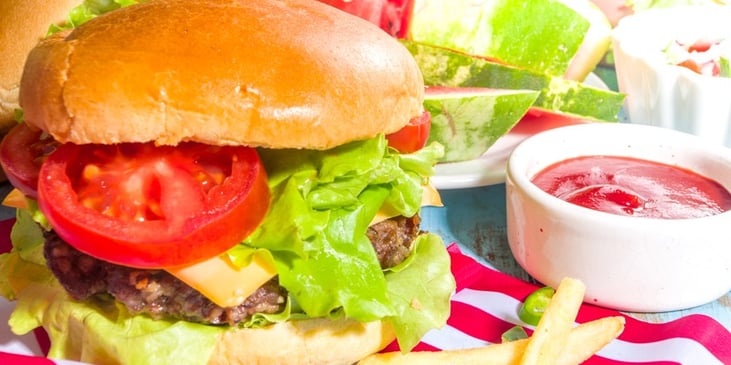 In this Q&A interview with ArrowStream's lead food and agricultural economist, Dr. Isaac Olvera, we highlight some of the key commodities consumers can expect to see higher prices for over Memorial Day weekend 2021.
Q: What will consumers be impacted by the most?
Dr. Isaac Olvera:
At the grocery store, it almost goes without saying, but the proteins are certainly likely to be featured at higher average pricing than in years past. We wouldn't be surprised to see package deals or specialty pricing being a bigger deal (i.e. Memorial Day combos or BOGOs on hotdogs or ground beef items) as grocery stores try to drive foot traffic ahead of the first semi-reopened U.S. holiday.
Q: What are the expectations for pork?
Dr. Isaac Olvera:
On the pork side, given sharply elevated wholesale pricing across the sparerib primal, retail feature activity is certainly light across the various rib styles, with the spareribs, as well as the St. Louis style ribs being featured at their highest grocery store ad prices since at least 2015 (the farthest back we have data for) while total retail rib ads are down 34 percent from the average feature rate spanning 2015 through 2019.
Another Memorial Day (but really every day) staple might be bacon. Retail sliced bacon in 1-pound packages has, as well, been featured in retail ads sparingly. Again, feature prices ahead of the holiday weekend are running at their highest since at least 2015, coming in at $5.51 per pound – that would be about 17% higher than the average price from 2017 through 2019. While we do not have May Bureau of Labor Statistics (BLS) retail price date, it's worth noting that the "every day average" retail bacon price in April was $6.215, a record for the month, and the highest for any month since September 2017. For reference, the retail bacon feature price in April was $5.408 per pound, the highest for the month, but only the highest for any month since October 2020 (but retail protein features weren't really a thing in 2020…).
Q: Will hamburgers be on the cookout menu?
Dr. Isaac Olvera:
Ground beef features were rather active in early March as well as again through early-to-mid April, but seem to have backed off into late May. We may see an active round of weekend features, but, at this point, it doesn't look like retailers are pushing burgers or ground beef aggressively for Memorial Day. That said, the average retail ground beef feature price looks to be about 4% under the 15-19 average, so, while ads are down those retailers featuring ground beef are likely doing so at attractive prices.
Aside from active Valentine's Day and Easter features, ribeye offerings have been muted this year, but there is still time for retailers to post an active over-the-weekend ad run. Nonetheless, retail rib feature prices ahead of Memorial Day came in at a record breaking $11.40 per pound – the highest for any week since 2015! Pricing across the loin cuts have, as well, not been favorable with items, including: short ribs, New York strips, sirloins, filet mignon, t-bones, and skirt and flank steaks as well pricing in at record levels heading into the holiday-long weekend.
Q: Chicken has been impacted quite a bit this year with price increases and tight supplies. What can consumers expect for the holiday weekend?
Dr. Isaac Olvera:
Retail chicken ads have escalated sharply from mid-April into current, but the prepared chicken category has been the leader of the increases lately. We saw prepared retail chicken ads escalate sharply around the holidays in 2019, and we certainly viewed this as grocery stores attempting to compete more heavily with the convenience of foodservice. We're seeing something similar this year, with both fried and baked chicken ads, as well as rotisserie offerings jumping sharply leading into Memorial Day – a timeframe not typically known for heavy prepared chicken features (because this is generally viewed as a grilling holiday!).
While prepared chicken offerings pushing to their largest total ad space for the spring timeframe, grocers have done a good job controlling costs in aggregate, with all prepared chicken offerings averaging $6.61 per pound, but that would still be about $0.50 over the average ad price across the 15-19 timeframe. Unsurprisingly, the wing prices have been the driver of much of the upside while fried/ baked offerings of the other chicken parts (tenders, breasts, and dark meat) are about $0.50 under the 5-year average price. Still, it looks like retailers are going to try to drive foot traffic this holiday weekend with some chicken featuring.
Q: Are there any other Memorial Day food staples that will be impacted?
Dr. Isaac Olvera:
Bagged salads look to be offered at sharply higher prices, as well. It's been no secret that refrigerated truck availabilities remain tight, with 18 of the 21 reported USDA trucking regions indicating a slight shortage to shortage of available trucks so there's potential that many fruits and vegetables throughout many areas may see elevated prices as well. Still, mixed salad offerings from grocery stores look to be sharply higher heading into the weekend, with the $3.10 average (across the three bagged salad size offerings) up more than 40% from the five year average.
Last though, potato chips, the latest BLS data for April indicated that per 16oz bag, potato chips were averaging $5.09, and have been holding in this area since last June – these would be the highest prices for potato chips since early 2012, while the price per pound of chocolate chip cookies hovering near it's all-time highs, as well.

About Dr. Isaac Olvera
Dr. Isaac Olvera is ArrowStream's lead food and agricultural economist focusing on livestock, meat, and poultry, grains, and oilseeds as well as emerging trends in consumer buying behaviors both at retail as well as foodservice. Dr. Olvera holds a PhD from Texas A&M University in Animal Science, Production Economics where his research concentration was in the economic effects of sustainable practices in beef cattle production.
About ArrowStream
ArrowStream is the leading end-to-end supply chain management platform for the foodservice industry, helping clients capitalize on data to improve their business. ArrowStream serves thousands of chain restaurant operators, distributors and suppliers with a single integrated network of applications and industry data, providing unmatched levels of transparency, control and actionable insight to protect their clients' brands, mitigate risks and optimize profitability.