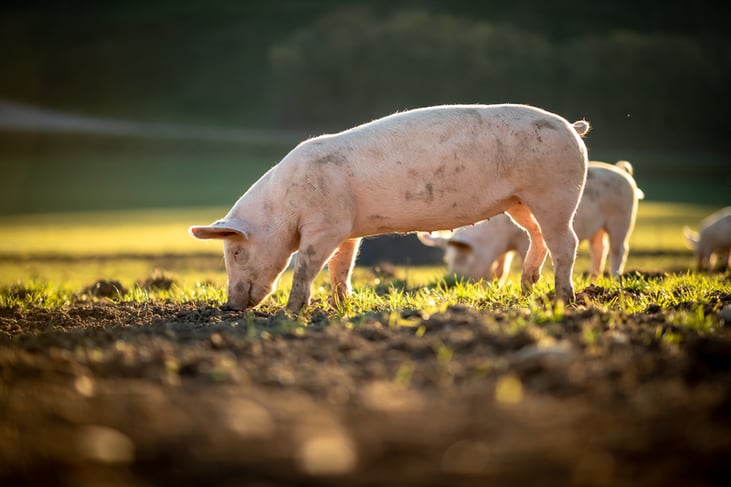 In this Q&A interview with Dr. Isaac Olvera, ArrowStream's lead food and agricultural economist, we look at California's Proposition 12 standard and how it will impact 2022 pork prices for the foodservice industry.
Q:

Can you explain Proposition 12 and what it means for the

restaurant

industry?
Dr. Isaac Olvera:
As producer challenges to California's Proposition 12 have failed, we've been getting increasing inquiries from pork buyers concerning the potential impacts to pork prices moving into 2022. For those not familiar with Prop 12, the initiative bans the sale of any uncooked pork, veal, or eggs from suppliers that do not meet specified animal welfare standards, and this includes products produced outside the state of California.
While data regarding the industry's ability to provide gestation crate-free pork is limited, it's estimated that California consumes about 12% to 15% of the nation's pork but an estimated 1% or less of the nation's production meets the Prop 12 standard. (We've had trouble verifying this number, however.)
Q:

What does the new standard mean for pork pricing

?
Dr. Isaac Olvera:
At this point, that is the key unknown for the restaurant industry, with the closest publicly available pricing report we can find the USDA Specialty Pork Report that started in 2019, where specialty pork is loosely defined by USDA as "any specialty program, such as, but not limited to, genetically selected pork, certified programs, or specialty selection programs for quality or breed characteristics."
Assuming certified programs cover crate-free production (among other aspects), there certainly is a price premium associated with specialty pork production. Looking at the 13-17# derined belly, the price premium to wholesale commodity 13-17# belly prices has been about $0.41 per pound, or 32.8% across the life of the report.
This simple analysis isn't too far off from other published resources looking for upwards of 50% retail price increases across the broader pork categories.
Now, for the kicker (as if we needed to be kicked more, right), according to the National Pork Producers Council (NPPC), as of early May, the State of California has not yet come out with any implementation or certification regulations – regulations that were apparently due September 1, 2019. With a Prop 12 start date of January 1, it's unclear what that means for implementation, but again, according to NPPC, Prop 12 stands to reduce production efficiencies by 20% to 25% if implemented. Needless to say, Prop 12 is not a net positive for consumers who, nationally, are already paying record-high retail bacon prices.

About Dr. Isaac Olvera
Dr. Isaac Olvera is ArrowStream's lead food and agricultural economist focusing on livestock, meat, and poultry, grains, and oilseeds as well as emerging trends in consumer buying behaviors both at retail as well as foodservice. Dr. Olvera holds a PhD from Texas A&M University in Animal Science, Production Economics where his research concentration was in the economic effects of sustainable practices in beef cattle production.
About ArrowStream
ArrowStream is the leading end-to-end supply chain management platform for the foodservice industry, helping clients capitalize on data to improve their business. ArrowStream serves thousands of chain restaurant operators, distributors and suppliers with a single integrated network of applications and industry data, providing unmatched levels of transparency, control and actionable insight to protect their clients' brands, mitigate risks and optimize profitability.